The Next G Alliance
October 22, 2020 | Todd Landry
As the world churns on 5G implementation and early rollouts of technology industry standards, organizations are already turning their heads toward what's next.  Recently, the Alliance for Technology Industry Solutions (ATIS) launched the Next G Alliance. ATIS is the North American member company for global standards, such as 3GPP, and supports dozens of workgroups that carefully discuss and create contributions into the global standards-setting bodies.  JMA has been involved with ATIS for many years.  As a founding member of the Next G Alliance, we believe it is not too early to be shaping value propositions and the requirements frameworks for the next phase of wireless standards. In fact, JMA is involved at many levels of next generation networks and is proud to be a major U.S.-based contributor to innovation strategies and execution.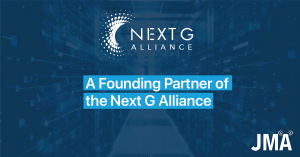 Why Next G Alliance, and why now?  Because the evolution of detailed standards takes years to develop and agree upon. While the current 5G standards are in a state of implementation in networks, the work to establish the next phase of standards is the next logical step in the lifecycle!  In many places of the world, research has already begun on 6G and technical organizations are establishing new prospective requirements.  In the current 5G standards it is estimated that the U.S. contribution was a small percentage, less than 15%, and with industry standards so critical in establishing the value needed of new networks and the basis for innovation, it's crucial to engage the technical communities and to foster new research early in the process. So, it is absolutely time to start this process and it's critical for the technical communities to participate and provide ideation and technical contributions to the Next G.
What is Next G Alliance and how will it work? The Next G Alliance is an industry initiative that is driven from ATIS and embraces industry leaders to advance North American mobile technology leadership in 6G and beyond over the next decade. The Next G Alliance will encompass the full lifecycle of research and development, manufacturing, standardization and market readiness.
The Alliance will start by establishing a Steering Group, which in turn will set forth recommended Workgroups that focus on key elements that set forth research and leadership for areas like security needs, international and regional coordination, spectrum use and recommendations, related policies, proposals on innovation zones, incentives for new research and innovation. To promote realization, the Alliance will seek to promote market trials, workforce training, and consumer education.
The Alliance also works with U.S. Government funding agencies with the goal of seeing new research initiatives based on a coalition of industry and academia, seeking new methods of driving top researchers to participate in these activities and to provide insights into potential commercialization benefits for the supply chain. The chart below from ATIS provides a visual framework for what this looks like.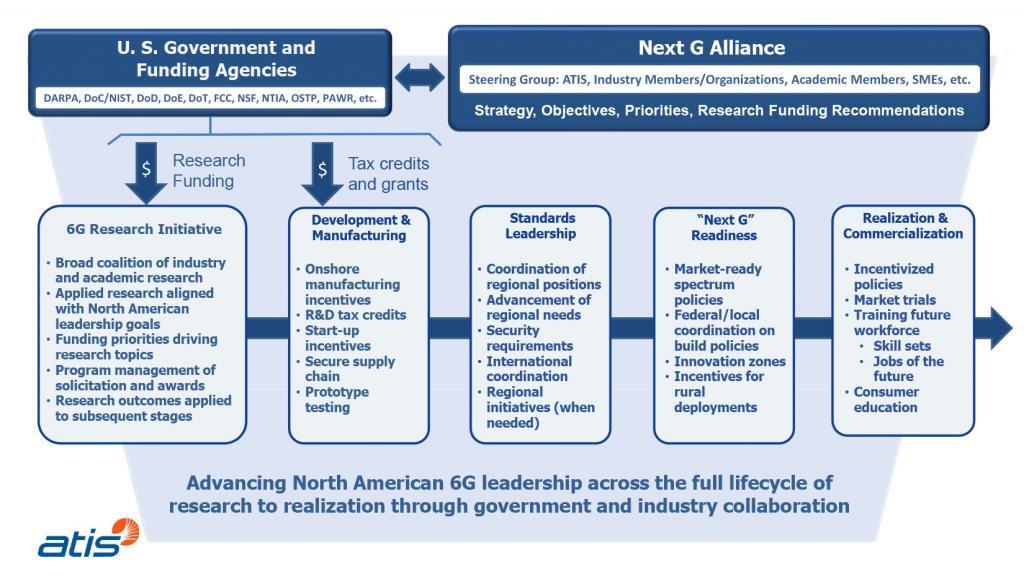 As an organization centered on ensuring North American contribution to global technology standards and solutions, you could boil the Next G Alliance Strategic actions into 3 major areas:
Develop a 6G national roadmap that addresses the changing competitive landscape and positions North America as the global leader in R&D, standardization, manufacturing and adoption of Next G technologies.

Align the North American technology industry on a core set of priorities that will steer leadership for 6G and beyond to influence government policies and funding.

Identify and define the early steps and strategies that will facilitate and lead to rapid commercialization of Next G technologies across new markets and business sectors and promote widescale adoption, both domestically and globally.
As a founding member of the Next G Alliance this effort is aligned with JMA's position as a leading U.S innovator of 4G and 5G technologies and as an organization that takes the long-view on building world class technologies for the best and most secure networks.  This is a promising new initiative that we would encourage our industry colleagues to support and participate in as we seek to advance the U.S. leadership.
For more information, visit www.atis.org for the Press Release.
Follow JMA on Twitter, LinkedIn and Instagram.
About the Author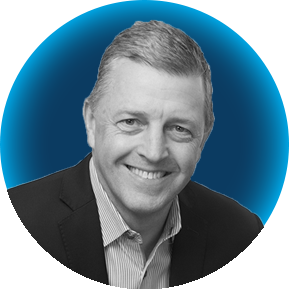 Todd Landry | VP Product & Market Strategy
Mr. Landry is a technology, business & marketing executive with a long history of developing and marketing winning product portfolios and is a well-known industry leader in the areas of IT & Communications for his successful vision and strategies. Landry leads the strategic product portfolio planning and marketing for JMA wireless. Mr. Landry held senior positions in companies that include NEC Corporation, Sphere Communications, 3Com's CommWorks Corporation, and U.S. Robotics, where he led strategy, product management, marketing, business development & alliances functions.