April 22, 2021
On Wednesday, April 21, 2021, JMA CEO John Mezzalingua testified before the U.S. Congress.
It was an honor for JMA to be invited to testify in the hearing: "Leading the Wireless Future: Securing American Network Technology." Twenty-five members of Congress participated, and JMA was one of two companies asked to weigh in on the nation's most pressing issues related to wireless technology and infrastructure. This marked a major milestone for the Syracuse-based company and its growing reputation as a trusted wireless leader and resource to lawmakers.
The hearing, held by the House of Representatives Energy and Commerce Committee's Subcommittee on Communications and Technology of the House Energy & Commerce Committee focused on wireless network security and emerging trends like open, interoperable network infrastructure (O-RAN).
In a welcome display of bi-partisan unity, the Subcommittee unanimously supported competition and diversity in the 5G supply chain, particularly in the context of lowering barriers to new entrants via the encouragement of O-RAN technology development in the U.S. Moreover, it was clear that the Congressional Members participating in the hearing were sensitive to the fact that restoring U.S. wireless technology leadership is essential to better securing American networks and data, indeed, U.S. national security writ large.
John made a number of key points in his testimony, underscoring JMA's emerging expertise and leadership in the global wireless telecommunications industry: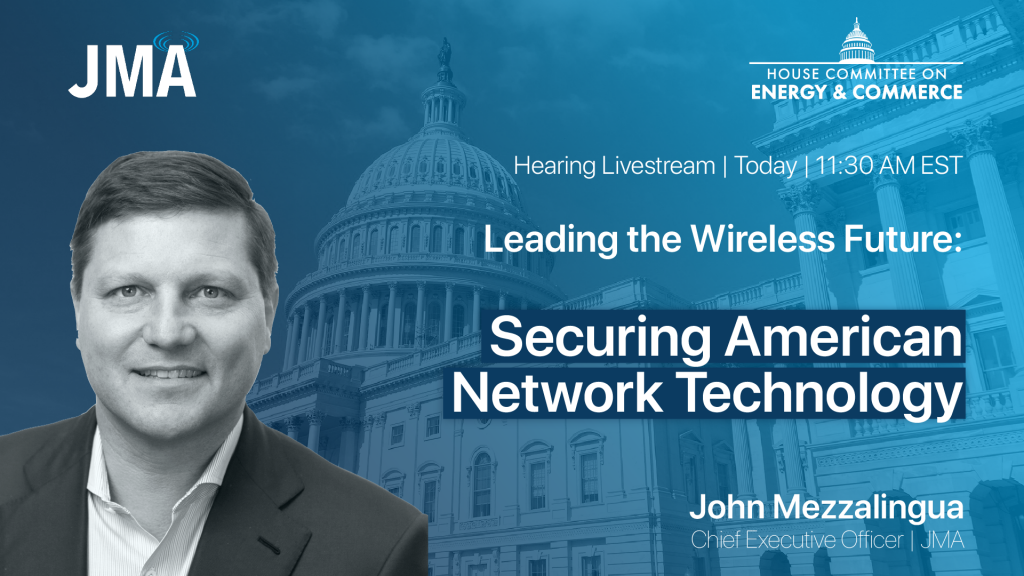 Importance of O-RAN:

"As the world transitions to 5G and O-RAN, technological, market, and political forces are aligning to create a new era in communications. The policy choices we make now will determine the new global leaders in this highly strategic industry."

Unlocking American leadership through virtualization:

"Now, others on the panel have spoken about O-RAN. But I would submit that what makes it magic is when you take what has been done in hardware and do it in software. We refer to this as virtualization. This is the technology that holds the key to unlocking American leadership."

Advancing digital equity in Tucson:

"JMA is deploying a wireless network for the city of Tucson, Arizona, that will provide free, public high-speed internet to 5,000 households and businesses, largely in the school districts most affected by the digital divide. And that's just the beginning. Using CARES Act funding for the project, Tucson is now poised to become a world-class connected city. We've been talking about the digital divide in America for decades–this is time to solve it–with U.S. companies providing the latest software technology to stretch U.S. taxpayer dollars, to keep its citizens at the forefront of the wired world."

5G for the DoD:

"JMA was also selected by the Pentagon as a supplier for the 5G test network at its Marine Corps Logistics Base in Albany, Georgia. As part of an all-U.S. team that includes Amazon, Cisco, Federated Wireless, JMA deployed our software-based RAN solution for the base's local 5G network, which will support warehouse robotics, barcode scanning, and virtual reality applications."

Focus on U.S. manufacturing:

"We believe our government should enact policies that promote American innovation while staying true to our international obligations of fair play. Such policies would assure that projects funded by American taxpayers are awarded to domestic manufacturers."