Unique Cultural Center Deployed Industry Leading TEKO DAS from JMA Wireless
Innsbruck, Austria – September 19, 2018 – JMA Wireless, a global leader of wireless communications solutions, will be enabling mobile communications with its advanced in-building cellular connectivity solution at Haus der Musik (House of Music), which will be opening its doors in Innsbruck, Austria in October 2018. To ensure its visitors and staff will always be connected, the multi-carrier, multi-band TEKO® DAS (distributed antenna system) platform from JMA Wireless has been deployed by system integrator, Iconec GmbH, in conjunction with MVNO, Innsbrucker Kommunalbetriebe (IKB).
"It is a pleasure to work with IKB, which shares our commitment to provide best-in-class reliable in-building coverage for public and private buildings," stated Matthias Goltz Managing Director at Iconec GmbH. "As a certified supplier by the Austrian operators, we know JMA Wireless will make this commitment a reality at Haus der Musik."
Haus der Musik presented many challenges with its complex structure spanning seven levels, including two located underground. This new meeting place for music and theater artists, students and those interested in culture will include a total of nine cultural institutions and musical training centers all housed in one central location. The TEKO DAS will enable cellular coverage throughout while still maintaining the aesthetics of the facility.
For the first phase of this wireless system, JMA Wireless used the iBwave simulation tool to design an intelligent and aesthetically elegant system while ensuring smarter planning, streamlined designs and seamless deployment plans. The TEKO DAS will enable in-building wireless communications with one sector supported by four low power remote units (RUs). Each RU is connected back to the master unit (MU) via a single optical fiber, which will transport five bands (800, 900, 1800, 2100 and 2600) and will provide support for three mobile operators. With its innovative capabilities, the cost-efficient TEKO DAS is up to 50 percent less expensive than competitive offerings.
"The equipment from JMA Wireless offers the technical ability to set up campus networks in a scalable manner," said Thomas Stotter, Head of Telecommunications at Innsbrucker Kommunalbetriebe. "Plus, a project of this magnitude is now possible without high investment costs."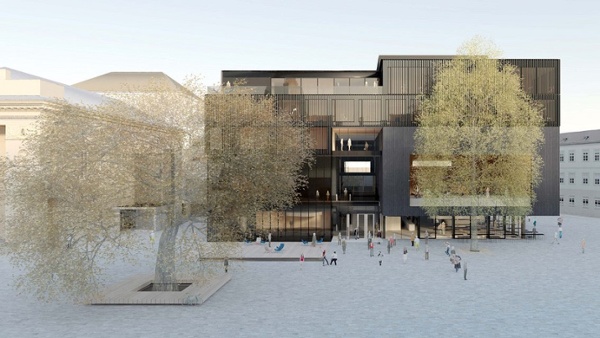 The Haus der Musik will be one of the largest buildings in the state of Tyrol, but the multi-band, multi-carrier TEKO DAS is up to the challenge of ensuring powerful in-building cellular coverage.
"Wireless connectivity must be part of the architectural plans, similar to how plumbing and electricity are included when constructing a new building," said Andrea Casini, Senior Vice President of International Business at JMA Wireless. "With the iBwave simulation tool, we produced a smart design that the TEKO DAS will deliver on while still maintaining the attractive environment of the Haus der Musik."
Innsbrucker Kommunalbetriebe
Innsbrucker Kommunalbetriebe (IKB) offers the latest technologies in the telecommunications sector and began expanding its fiber optic network in 1996: a grid of the future with maximum availability and ultrafast symmetrical uploads and downloads. In the future, applications will increase in significance for IoT and the amount of data required for them will grow. In-house systems offer end customers the highest possible data speeds in the mobile network, even if the customer moves around the house and retrieves information. The basis for this is the fiber optic network and IKB's know-how: from planning and implementation of fiber optic networks to a 24-hour hotline and on-site service. For more information, please visit ikb.at.
Iconec GmbH
Iconec has many years of solid experience in the telecommunication and automotive branches, enabling us to answer your questions and meet your goals as a competent consuting and services company. Iconec's origins are in the fields of telecommunication and information technology, specifically in the areas of mobile LTE, UMTS, HsxPA, EDGE, GSM and BWA as well as in the fixed-line technologies of SDH, PDH, ATM and IP. For further information, please visit iconec.com.
About JMA Wireless
JMA Wireless is the leading global innovator in mobile wireless connectivity solutions that ensure infrastructure reliability, streamline service operations, and maximize wireless performance. Employing powerful, patented innovations their solutions portfolio is proven to lower the cost of operations while ensuring lifetime quality levels in equipment and unrivaled performance for coverage and high-speed mobile data. JMA Wireless solutions cover macro infrastructure, outdoor and indoor distributed antenna systems and small cell solutions. JMA Wireless corporate headquarters are located in Liverpool, NY, with manufacturing, R&D, and sales operations in over 20 locations worldwide. For more information, please visit jmawireless.com or follow JMA Wireless on Twitter @JMAwireless.
For further information contact:
Sean Griffin
315-431-7116
sgriffin@jmawireless.com