Municipalities are challenged with increasing public demand and expectations for more widespread and more advanced connectivity. The COVID-19 pandemic in particular brought into sharp focus the need for residents, students, and teachers to work and learn from home. Insufficient broadband access – indeed, lingering digital divides separating broadband "haves" and "have-nots" – impacts cities, towns and communities across the country and around the world.
With the help of JMA, Tucson, Arizona recently stepped up to address these challenges.

TUCSON'S CHALLENGE
For many cities, there is a perception that next-generation connectivity comes at a cost beyond the reach of municipal budgets. In the case of Tucson, for instance, in advance of the Covid-19 pandemic, the city had estimated a 50% increase in connectivity costs over the coming five years. In light of the pandemic, Arizona's need to close the digital divide for school-age children shifted from a goal to an imperative.
Faced with the reality that 32% of Tucsonians did not have high-speed Internet connectivity, the City of Tucson looked to JMA for a new way to deliver connectivity for critical public services that would both save costs  and help fund the deployment and management of a next-generation network, while expanding connectivity for underserved citizens.
JMA'S SOLUTION
JMA went to work deploying a private network which allowed for city departments and other public organizations to migrate off commercial wireless services, in turn using the savings to both fund the network and provide expanded services to citizens.
In Phase 1 of the project, the city identified 20 square miles that were underserved by current coverage, aligning with areas where the digital divide for school age children was the widest. Such a large coverage area required a technology that could provide outdoor coverage at scale, supporting thousands of users and devices per square mile – a task WiFi simply cannot manage.
To fulfill such intense coverage requirements and support a multi-phased project – simultaneously clearing a pathway to 5G – Tucson needed a comprehensive solution that could deliver both breathtaking performance and high flexibility. To achieve this, JMA leveraged a one-of-a-kind solution to maximize the potential of CBRS (Citizens Broadband Radio Service), advanced network hardware and JMA's 100% virtualized XRAN software.
From a technical perspective, JMA provided a multiple service-capable RAN with CAT B CBSDs deployed as a distributed radio system with a virtualized, 100% software baseband for 4G, and 5G Ready. Supporting all 150 MHz of CBRS, over 1,000 active users per CBSD, high carrier aggregation, and both GAA and PAL CBSDs, JMA's XRAN solution is a carrier-scale system that deploys in the city's IT network topology. Notably, XRAN provides high-performance coverage using software alone. This feature will allow Tucson to upgrade its wireless infrastructure easily and cost-effectively over time, enabling a seamless transition to 5G. No expensive rip and replace will be required.
THE RESULTS
JMA is making it possible for Tucson to extend an economic lifeline to its most vulnerable citizens through connectivity, at the same time deploying the requisite wireless infrastructure to fulfill Tucson's smart city ambitions.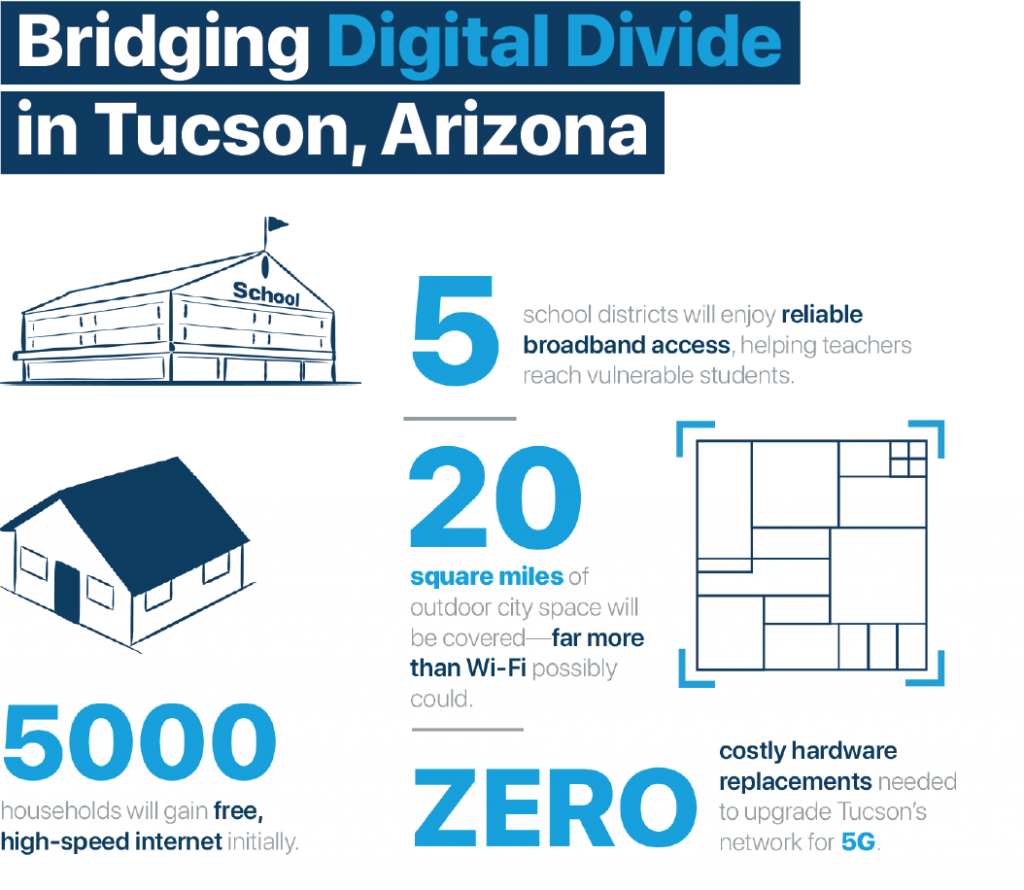 Tucson is already seeing results. By the end of March, Tucson's CBRS network began serving 1,000 active users, eventually scaling to serve 5,000 households. In short order, Tucson has gone from one of the most connectivity-challenged cities in the country to one of the very best, serving as a model for communities across the U.S. and the globe who are looking for smart solutions to bridge their own digital divides.

For more perspective on the process from concept to deployment, take a listen to our podcast episode between Melissa Ashurst, VP of Emerging Markets, and Collin Boyce, CIO at the City of Tucson.