JMA Wireless laser welded jumper technology is an industry-leading solution. Innovative and patented, network infrastructure partners demand our solutions to eliminate PIM (passive intermodulation) and improve their signal performance.
Laser Welded Jumper Technology
Guaranteed minimum RF performance delivers maximum throughput in LTE and 5G networks
Unmatched long-term reliability eliminates jumper related operational expenses
100% factory tested dynamic PIM and return loss results available via website validates minimum performance levels
THE LASER WELDED DIFFERENCE
JMA Wireless laser welded jumpers excel where traditional jumpers fall short.
MOISTURE SEALING

Laser welded jumpers use internal and external seals to provide redundant moisture sealing in addition to our Weather Protection Systems which are available with any jumper order.

PRODUCTION CONSISTENCY

Our patented laser welding technology utilizes a vision system for accurate and consistent fusion of the outer conductor to the connector.

MECHANICAL STABILITY

Our laser welding process uses a very focused beam to eliminate any chance of melting the dielectric due to excessive heat. Our laser welded jumpers pass ALL enhanced testing including: moisture, vibration, thermal shock and dynamic PIM.
PRODUCT SPECIFICATIONS
Download our factory fit jumper data sheets.
---
Performance Results Portal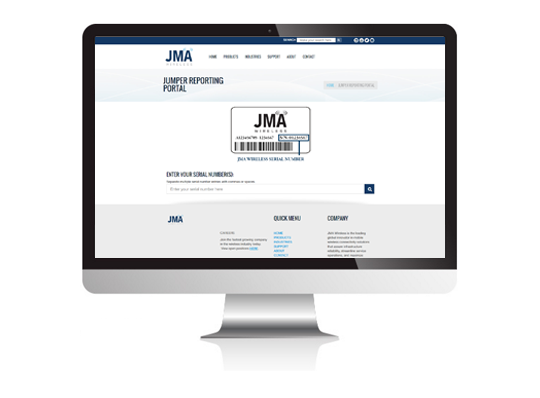 Visit our Performance Results Portal to quickly view our jumper test results.
Unique Product Serial Numbers Every laser welded jumper is assigned a unique serial number with test results available via the portal 24/7.
Factory Guaranteed Performance Our laser welded jumper production process ensures reliable PIM and return loss performance. Industry leading specifications result in superior network reliability.