Whether on a business trip or on vacation, travelers expect high-speed mobile connectivity. To stay on the leading edge of hospitality communications technology, companies turn to JMA Wireless. JMA offers flexible and scalable in-building wireless solutions to meet the mobile connectivity needs of hotels, resorts, and casinos. Its cutting edge TEKO™ DAS cellular communications not only in guest rooms and the lobby but also in difficult-to-reach meeting spaces. Guests will experience better mobile connectivity while facility owners can look forward to increased satisfaction ratings and customer loyalty.
We are confident our choice of the JMA Wireless TEKO™ Solution and Longent as the integrator provides our guests with outstanding cellular coverage."

Joe Roybal, Chief Information Officer Osage Casino
---
CASE STUDY: Tulsa's Premier Hospitality Complex Enhances Guests' Mobile Experience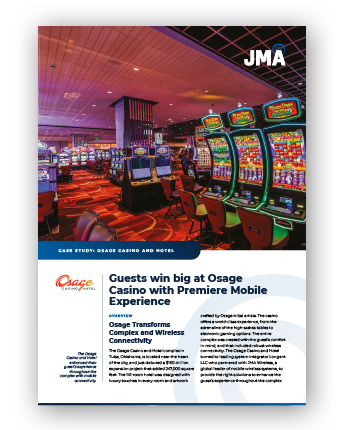 Summary:
The Osage Casino and Hotel complex in Tulsa, Oklahoma, is located near the heart of the city, and just debuted a $160 million expansion project that added 247,000 square feet. The 141-room hotel was designed with luxury touches in every room and artwork crafted by Osage tribal artists. The casino offers a world-class experience, from the adrenaline of the high-stakes tables to electronic gaming options. The entire complex was created with the guest's comfort in mind, and that included robust wireless connectivity. The Osage Casino and Hotel turned to leading system integrator Longent LLC who partnered with JMA Wireless, a global leader of mobile wireless systems, to provide the right solutions to enhance the guest's experience throughout the complex.
---